Metal coil slitting line machine is consists of uncoiler, feeder, pinch, pre-leveler, cropping shear, slitter, scrap winder and recoiler, etc. It is used for slitting the wide raw coil into narrow strips in order to prepare material for subsequent processes as milling, pipe welding, cold forming, punch forming, etc. Moreover, this line can also slitvarious non ferrous metal coils by changing slitting tools of different materials.
For the metal slitting line now we have the following options:
Speed normal speed 35 to 40 meter per minute.
High speed can reach 80 to 120 meter per minute.
The following elements will effect the machine cost a lots, so when asking quotation, please supply the following information and then we can supply the accurate quotation.
What is the material thickness
How about the coil width.
How about the Max coil loading weight.
What is the speed you need to use.
Metal coil slitting line machine working flow:
From right to left are: Entry coil car→Decoiler →Press and pinch device→Leveler→Hydraulic cutter→Table→Side guide device→ Slitter→Scrap winder→Roller table2→Tension stand →Recoielr→Exit coil car

The machine is composed by the following elements:
The machine is composed by the following elements: Entry coil car, Double head Decoiler, Hydraulic Press and pinch device
Side guide device1, Straightener, Hydraulic cutter, Roller table , Side guide device2, Slitter, Scrap winder, 2 Roller table 2
Tension stand , Recoielr, Exit coil car, Hydraulic system. Electrical system.


Now come to each elements of the machine:
Hydraulic decoiler
◆100N.M moment motor drives the decoiler running and the hydraulic drives it expand and shrink.
◆Expanding model: oblique slider is driven by hydraulic oil cylinder.
◆Max loading weight: 15T
◆Mandrel: 45# steel processed by heat treatment and the diameter is φ219mm. It is home-made by our company.
◆It is designed with the supporting stand which is driven by hydraulic to ensure the heavy weight of coils can be loading.
◆It is designed with the press arm, the roller is made by rubber, this design is used to prevent the coils from loosing.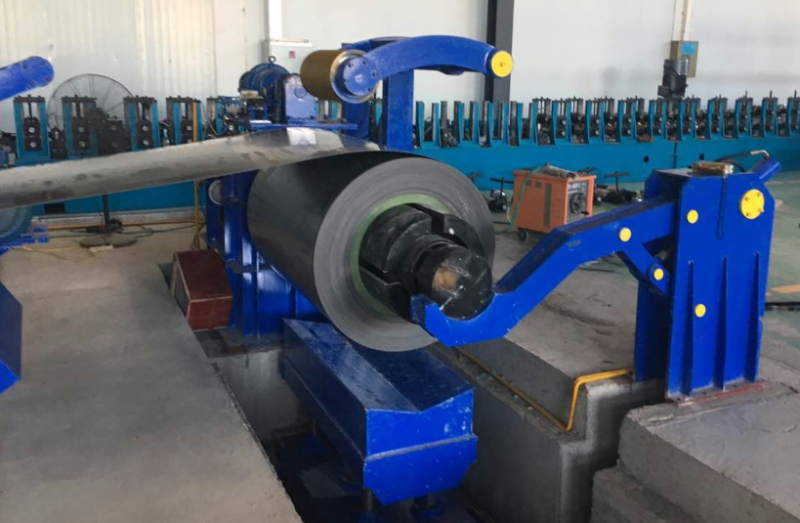 Metal slitting part, the most important part:
◆ Knife pivot specification: φ200x1350mm, material: 40Cr, heat treatment HB225-250.
◆Host machine: This is composed of bottom-stand, fixed bracket, big slide, knife pivot(φ200mm, 2pcs), movable bracket, slide, the front and back adjustable device of bracket, knife pivot lifting and pressing down adjustment device.
◆Power part: 45KW DC motor with JZQ 650 decelerator and universal coupling as well as gear distributing case, coupler, spindle, connecting-cover, etc.
◆Knife pivot press down device adopts the motor to lift up and down.
◆It change the blades through moving out the bracket hydraulically and is very convenient and fast.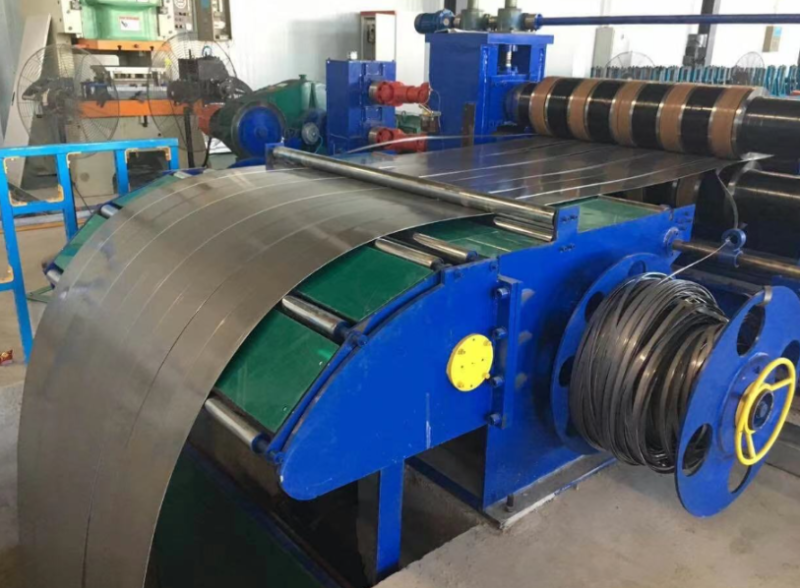 Recoiler (75KW DC)
◆It adopts the hydraulic expand and shrink to tight the coils inner diameter.
◆Designed with 8-fan-shaped plates which can be a round circle and machining as a whole to ensure the recoiling quality. It is designed with hydraulic clip mouth and clip the strips heads.
◆It is designed with the hydraulic press arm equipped with the spacers to guarantee the even rewinding quality.
◆It is equipped with the hydraulic pushing device to unload the coils
◆75KW DC motor can guarantee the rewinding quality.
◆Gear adopts casting ZG45,the surface of the gears is processed by quenching, HRC45°,
◆Diameter of Mandrel of recoiler:273.8 fan –shaped plated are 45#X60mm (thickness), quenching, HB: 220mm-250mm.
◆Designed with the seamless expand and shrink structure and clip-mouth so that when the strip heads insert into the clip-mouth, it will close automatically and start winding.
◆Press arm lift up and down by hydraulic and it is equipped with the pushing plate which is used to help pushing the coils to the coil car.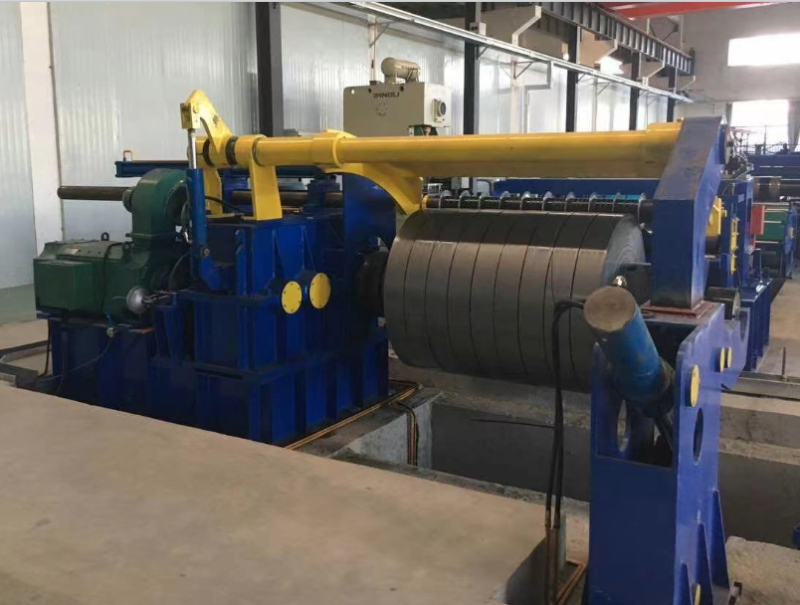 Galvanized steel and stainless steel slitting production line, metal slitting machine working video for your reference: