3 in 1 Uncoiler straightener with feeder for middle thick material
Basic procedure of the Thin sheet Steel Coil Slitting Line:
The coil is hoisted from the coil store to the coil preparation device, and then sent to the uncoiler drum by the steel coil trolley. The coil is opened to fix the coil on the reel, the strap is removed, and the unwinding device is used. , the lead is introduced into the pinch device, through the side guide of the looper, the disc is cut and cut (trimmed), the edge wire is collected by the edge machine, and the strip is fed through the looper and the tension table. The winding jaws can be produced in conjunction with the belt.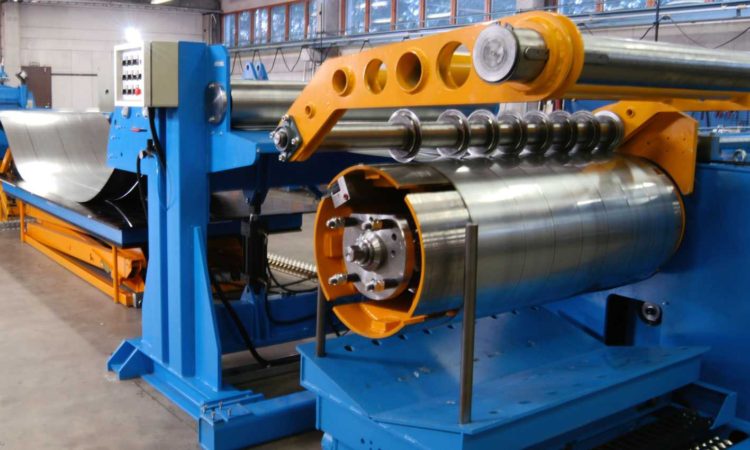 Technical Specification of High speed Coil Slitting line
1. Specifications
a. Applicable materials: cold rolled plate, color plate, galvanized plate, pickled roll
b. Material quality: domestically produced genuine steel or international standard steel
c. Tensile strength: δb≤450Mpa, δS≤260Mpa,
d. Material thickness: 0.5-3mm
e. Material width: 600-1600 (Max)
f. Steel coil inner diameter: φ470-520
g. Steel coil outer diameter: φ1600mm (Max)
h. Coil weight: 15T (Max)
i. Vertical scissors shaft diameter: φ200 Material: 40Cr
j. Vertical scissors: φ200Xφ340X20
k. Vertical scissors material: 6CrW2Si
l. Maximum number of branches: 30
2. Finished slitted product parameters:
a. Width accuracy: ≤ ± 0.05mm
3. Other parameters of the equipment:
a. Power: 380V/50Hz/3Ph
b. Line speed: 0-120m/min
c. Installed capacity: 200 Kw
d. Production line area (approx.): length 28mX width 8m
e. Production operators: 1 skilled worker and 2 general workers
f. Production line direction: from right to left (the console is facing the unit)
g. Equipment color: white gray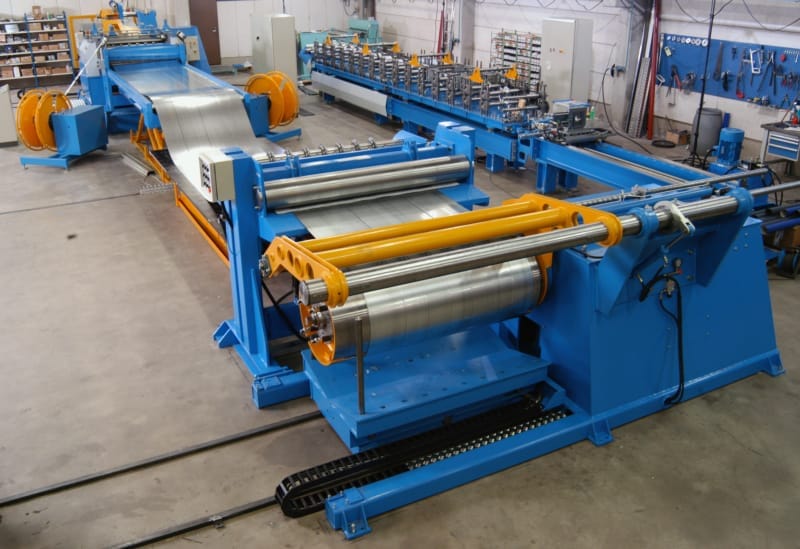 Features of steel coil slitting line:
In order to ensure the long-term stability of product performance, the key components of this equipment are imported products such as bearings, blades, cutter shafts, and receiving reels. The domestic processing and procurement parts adopt the highest technical standards among domestic counterparts.
a. Automatic feeding centering function;
b. The unwinding function assisted by the trolley;
c. Ultrasonic detection unwinding tension automatic control system;
d. Unwinding reel prevents inner ring crease function;
e. The movable platform lifts the convenient board and the automatic tailing function;
f. Hydraulic lock knife and knife shaft anti-jump function; line out knife, test knife;
g. The side wire collects the function; the fine side wire does not stop the winding function;
h. Constant tension winding function;
i. Automatic positioning function of the winding jaws;
j. fixed length slitting function;
k. Full-line linkage single operation;