The simple cut to length combined slitting machine is simple to operate and easy to move. The corresponding material thickness can reach 1.2mm and the width can reach 1250mm. It is a very good choice for customers with limited budgets. The equipment can be applied to steel plates of various materials. Flattening, cross-cutting, uncoiling and leveling the large reel plate, and then cross-cutting the plate into a flat plate according to the required length of the plate, or slitting the coil.
Based on the requirement, we design the simple cut to length combined slitting machine as follow: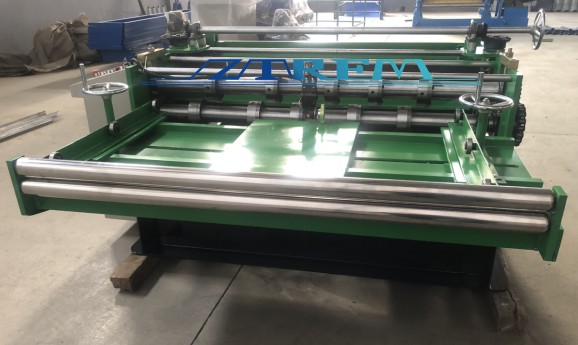 The working flow of the simple cut to length combined slitting machine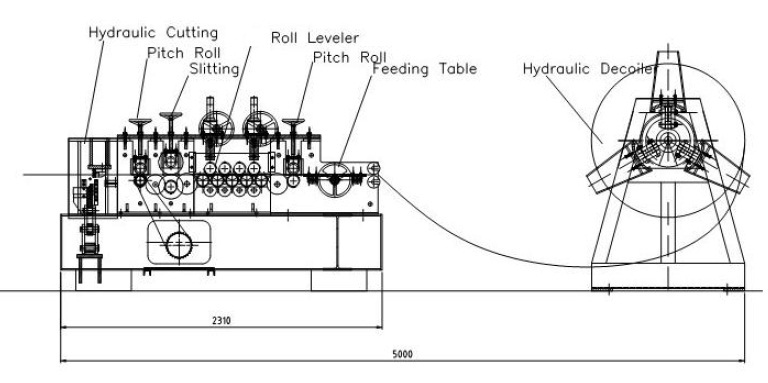 The main parameters of the simple cut to length combined slitting machine
Shaft diameter: 50 mm
Machine frame: 350H steel welding
Material of rollers: Inside 45# steel outside Rubber
Drive motor power: 5.5kw
Processing speed: 0-20m per minute
Leveling rollers: up layer 8 rollers down layer 9 rollers
Transmission way: chain with gear
Voltage: 380v 50hz 3phase
Material thickness: 0.15-1.5 mm
Processing material: SS
Cut power: hydraulic power
Cutting blade material: Cr12
The simple cut to length combined slitting machine is composed by the following elements:
Manual decoiler
The Carrying capacity is 5 t. Max coil width is 1400mm. Coil inner diameter is 450-550mm.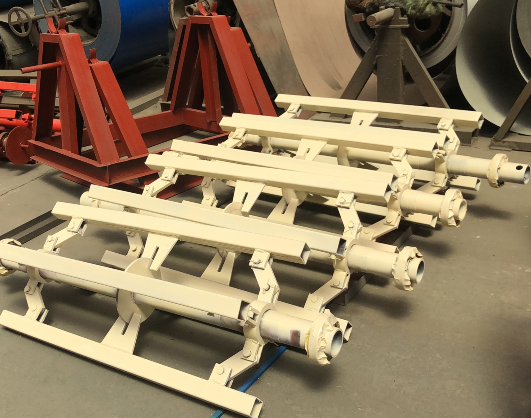 Straighten leveling & cut to length machine with slitting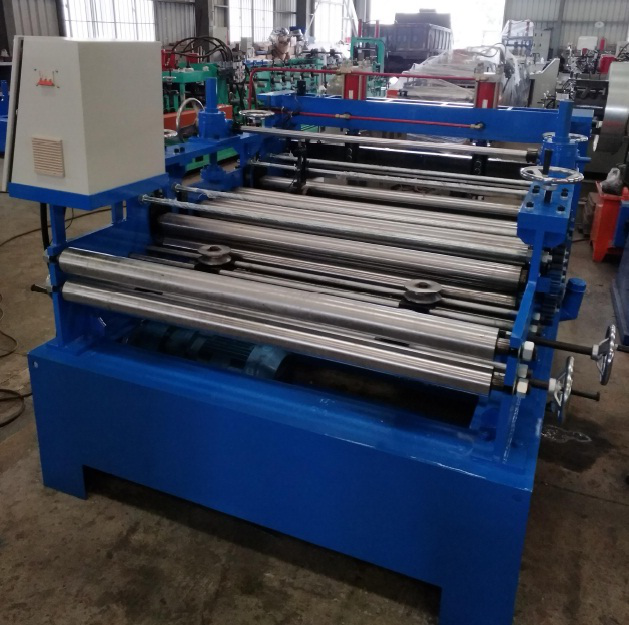 3.Hydraulic cutting system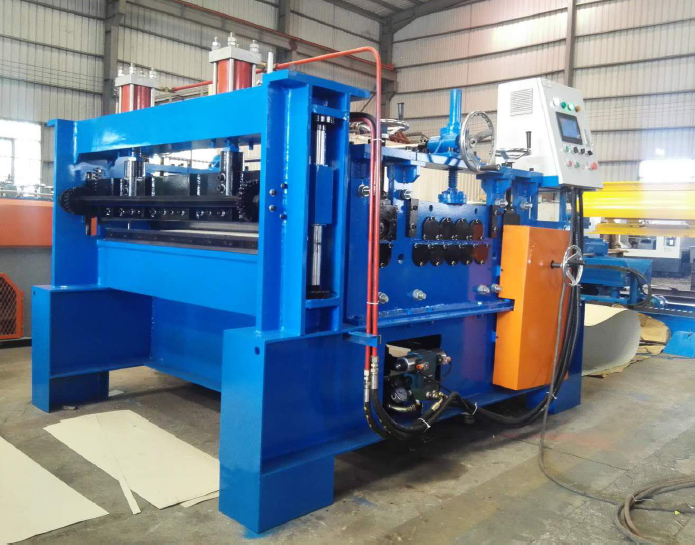 4.Hydraulic station
It is controlled by gear wheel oil pump. After filling the hydraulic oil into the hydraulic oil tank ,the pump drive the cutter machine to begin the cutting job.
Hydraulic motor Power: 3 kw
Hydraulic oil: 46# hydraulic oil
Components: The system includes a set of hydraulic tank , a set of hydraulic oil pump, two hydraulic pipes. and two sets of electromagnetism valves.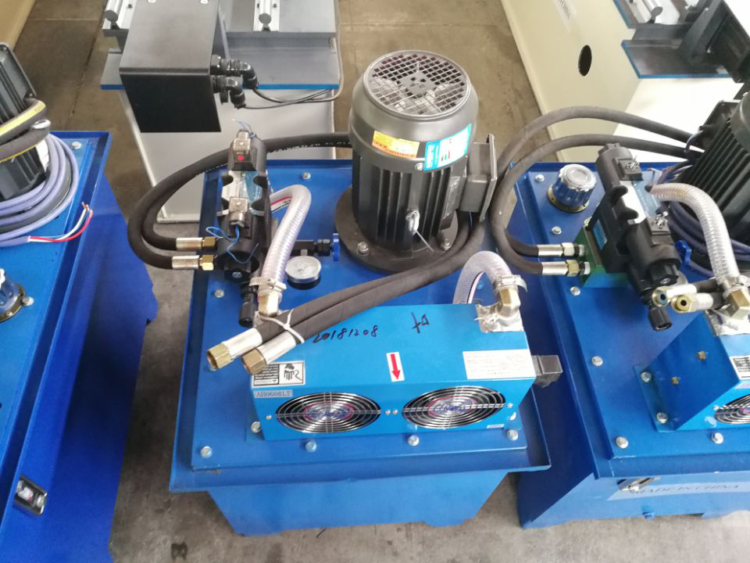 PLC Control system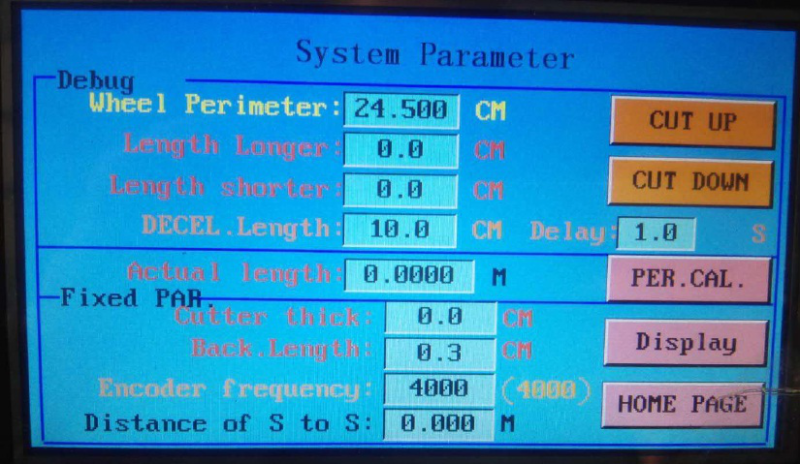 The Advantages of Economical Simple Cross-Slitting Machine
In order to improve the forming accuracy, the roll shaft is forged with multiple processes. For example, the inside and outside of the roll shaft will be chrome-plated, and the chrome-plating time will be prolonged, so that the overall appearance, more corrosion and wear resistance.
The feeding device is equipped with a roller shaft (built-in bearing), which can effectively prevent the sheet from scratching during the feeding process, and its thickness is very thin.
The roller shaft is equipped with double nuts and thrust washers, and is equipped with a keyway to ensure the smooth operation of the machine.
The cutting knife has increased strength, heavier weight, greatly increased cost, and durability.
The material of the hydraulic oil tank is processed and increased by the process to increase the power, use for a long time, without leakage, is equipped with an air-cooled device, the machine runs for a long time, and has a cooling function to ensure long-term stable operation of the equipment.
Driven by servo motor, it can ensure the accuracy of finished product cutting.