Galvanized Cee Purlins Zee purline rolling forming machine is designed to make C purline, Z purline in batch fully automatically with punching or without.
Cee Purlins For Metal Roofing
Designed to reduce the distance the rafters have to span, metal purlins support the loads from the roof deck and help to prevent the roof from sagging.
C Purlin - Cee or C purlins are shaped like a squared-off letter C. They are often used for structural support in walls and as floor joists in addition to roofs.
Z Purlin - The zee or Z purlin is shaped like a letter Z. Its shape allows the purlin to overlap with others at the joints. This gives zed purlins the potential to be much stronger than C purlins. Z Purlins are mainly used in walls or for large roofing projects. Here are some drawing profiles for your reference: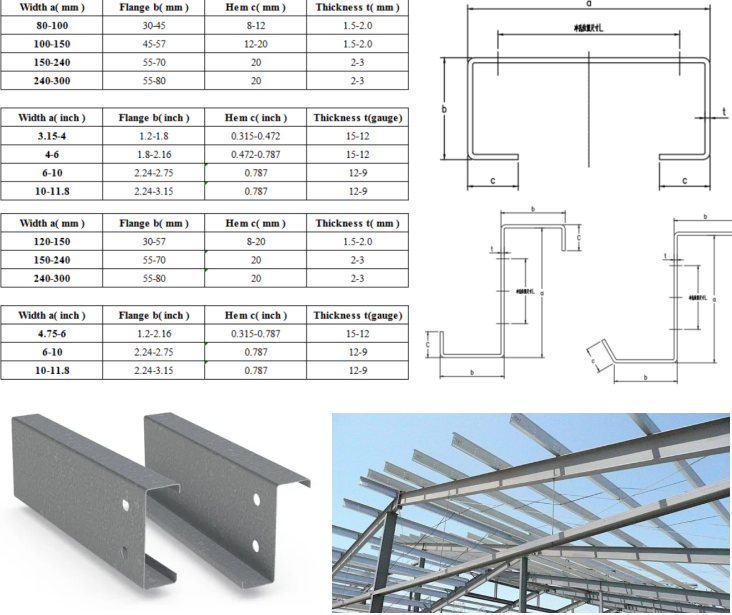 Galvanized Cee Purlins Zee purline rolling forming machine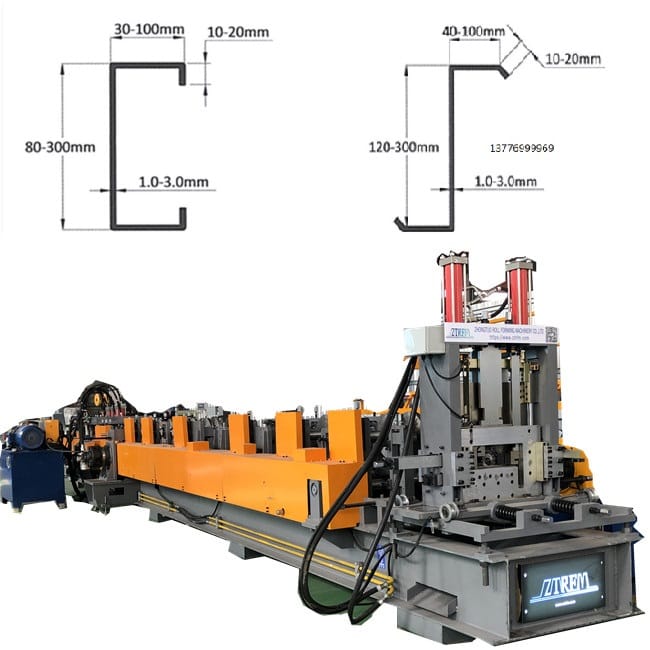 Configuration requirements :
Material thickness :1.5-3 mm A thickness between 2-2.5 mm is mostly used. We can omit higher thickness
Material yield strength: Just standard steel G350 or similar
Size : 100-300mm (it can be adjusted automatically )
If puching holes the speed will be 15-22m/min
C and Z purlin changed by manual or Automatically
PLC control is windows system by laptop.
Remote control and monitoring
Visualization of punching positions
CAD drawing input
Servo motor drive
Manual recveive table
Galvanized Cee Purlins Zee purline rolling forming machine working flow: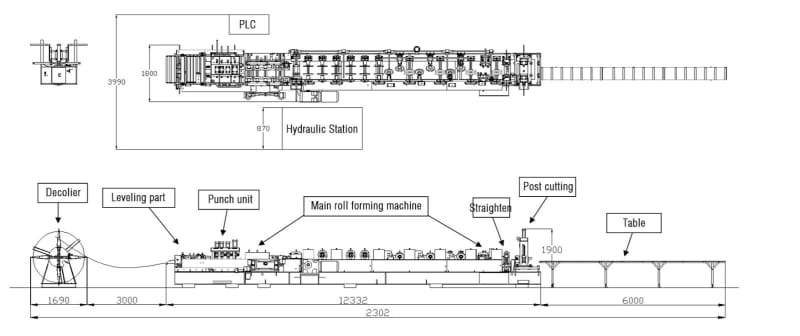 Galvanized Cee Purlins Zee purline rolling forming machine More in details:
Automatic decoiler or manual one: Capacity:6 tons
Coil inner diameter:450-550mm
Feeding width: max 500mm
Structure: welded by the steel plates and profiled bar.
The shrink and expand of coil is automatic , Drive by Hydraulic power.
Feeding and leveling part

There is an electric button here, which can automatically adjust the feeding width
Leveling rollers: 3 up 4 down
Roller material: Cr15
Roller diameter: 75mm
Feeding width adjustment: automatic by button
Make sure inputted steel sheet straight and neat and then roll forming process could be made accurate
Punching and pre shearing part

Punching unit with hydraulic system;
Punching mold:Gcr12 quenched treatment
Station 1: Bottom double side holes punching
Station 2: Bottom double side holes punching
Station 3: Pre-Hydraulic shearing
Main rolling forming machine of CZ purline machine: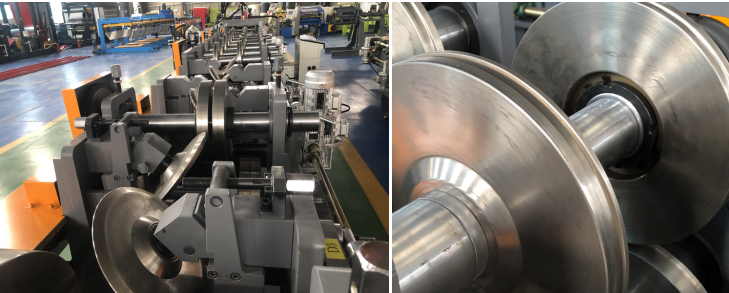 Roller material:
Cr12 CNC processing heat treatment to HRC: 58-60 ,finish turning
Roller stations :21 rows
Diameter of shafts:Φ80 mm solid
Material of shafts:
40 Cr CNC processing HRC28-32 ,finish turning and electroplate
Forming speed: max 15m/min
Voltage: 480V/60HZ/3P (as requested)
Transmission way :
Double chains + shaft end support
Servo motor power: 60 Kw
Sizes changing: Automatically by PLC
C and Z purling change : By Automatic or Manual
Hydraulic cutting system
Material of blade: Cr12mov quench treatment
Length measuring: automatic encoder measuring, tolerance of length is 1mm/3m
You can manually adjust the cutter to cut different sizes of c/z purlin. You do not need to change new blade and this cutter is easy to operate.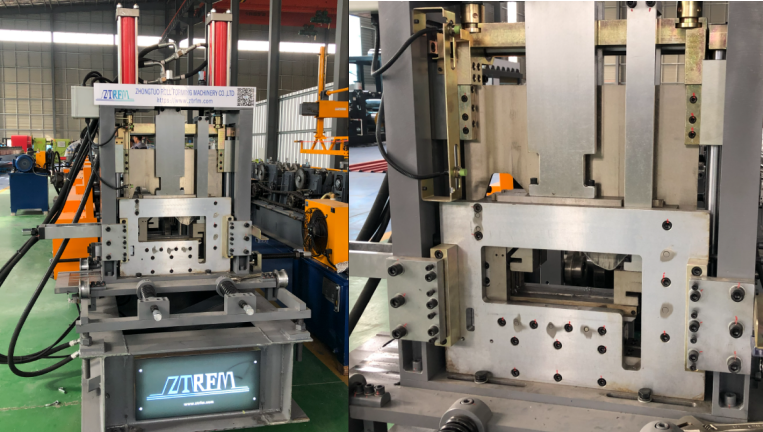 PLC Control system
1 set computer control + intelligent control system + production rapid input software:
U disk can quickly import production data .
Remote transmission Genuine WINDOWS system laptop.
Production visibility:

Automatic stacker:
Length: 6 meters
The frame body is welded with channel steel and angle steel, and the roller is installed on the surface
Related suggestion:
If the local labor cost is high, you can also choose automatic palatalizing ( Price:28000 USD )
Galvanized Cee Purlins Zee purline rolling forming machine working video for your reference:
<iframe width="650" height="450" src="https://www.youtube.com/embed/i0q7YU1Vdwg?rel=0" title="YouTube video player" frameborder="0" allow="accelerometer; autoplay; clipboard-write; encrypted-media; gyroscope; picture-in-picture; web-share" allowfullscreen></iframe>