Foam closure strips for metal roofing are specially formulated with unique wave designs for premium sealing of metal roofing panels. They can also be used as cushion seals for polycarbonate roofing panels. The metal roof foam closure strips can seal the gaps of the roofing panels. Therefore they can effectively make your roofing system watertight, weather tight and noise reduction. Also the foam closure strips can prevent insects and other animals from getting inside or beneath the roofing panels.
We are flexible to produce foam closure strips at any sizes so they can easily fit to any profile. Besides, the flexibility of materials and sizes makes the roof panel foam closure strips ideal for use in the construction of factory workshops, warehouse , house roof and other types of corrugated roofing structures.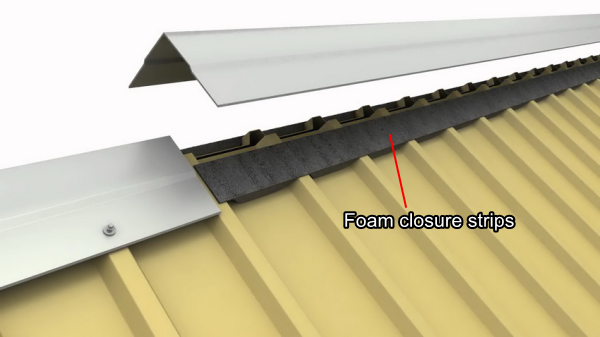 Features
1.Lightweight and durable foam materials
In order to have a good cushioning and resilient sealing performance, metal roof foam closure strips are made from foamtech closed cell EVA foam and cross linked Polyethylene foam. They are both lightweight foam mateials and can withstand long term abrasion.
2.Excellent water and moisture resistance
Foam materials used for roofing panel closure are of closed cell structures. They are highly steady and strongly resistant to water, moisture and other fluid. This can effectively help the roofing system watertight and weather resistance.
3.Acoustic barrier for sound absorption
Foam closure strips are naturally good at insulation and noise reduction. If there is no metal roof foam closure strips when installing the metal roof panels, the roof can make annoying sound and vibration on windy and rainy day. With foam closure well installed, your roofing system will be stable and effective reduce noise and vibration.
4.Easily fabricated to custom sizes fitting assorted roofing panels
Our foam materials are quite flexibly manufactured to be any custom sizes and shapes. So they are easily fabricated to fit all sizes of roofing panels both metal and polycarbonate. In this way, our foam closure strips can offer tight sealing for roofing panels. Also as they are resilient cushioning materials, metal roof foam closures strips can provide precise sealing for roofing panel gaps.
5.Flexibly available in black, white and other custom colors
Our EVA foam and Polyethylene foam are offered in a variety of colors. The typical and usual color is black and gray, also other colors are available to provide. If you want colorful metal roof foam closure strips, we can provide them easily and quickly.